Jonesborough's
Living Room
COFFEE / TEA / ESPRESSO / pastries / Vibes
Located in Tennessee's oldest town, Jonesborough, the Corner Cup invites you to experience those good vibes with a cup of joe and a smile.
The Corner Cup is a spot to relax with a tasty beverage, a hand-made crepe, or a friendly conversation. It is the brainchild of Deborah Kruse, the patron saint of all things caffeinated in our little town. Situated on the corner of Main and Spring Streets, our cozy shop is right in the heart of Jonesborough's historic district. The sights, buildings, events, and the stories of Jonesborough are always close by. Strike up a conversation with a local and you're sure to get an earful of yarn about the many ways we love this place.
Our excellent coffee is roasted locally, so the flavor in your cup is always fresh. With an extensive array of organic teas, Italian sodas, and pastries and snacks, you'll be sure to find something you like. Each order is crafted with love by our trained baristas, and our lovely rooms encourage a relaxed vibe. See some local arts and crafts, and chat with a friend or two. We'd love to have you.
Location
148 E Main St,
Jonesborough, TN 37659
Hours
Mon-Sat 8a-6p
Sun 10a-5p
Phone
(423) 483-2602
Join Our Mailing List
Get email updates of upcoming events, special offerings, and new menu items.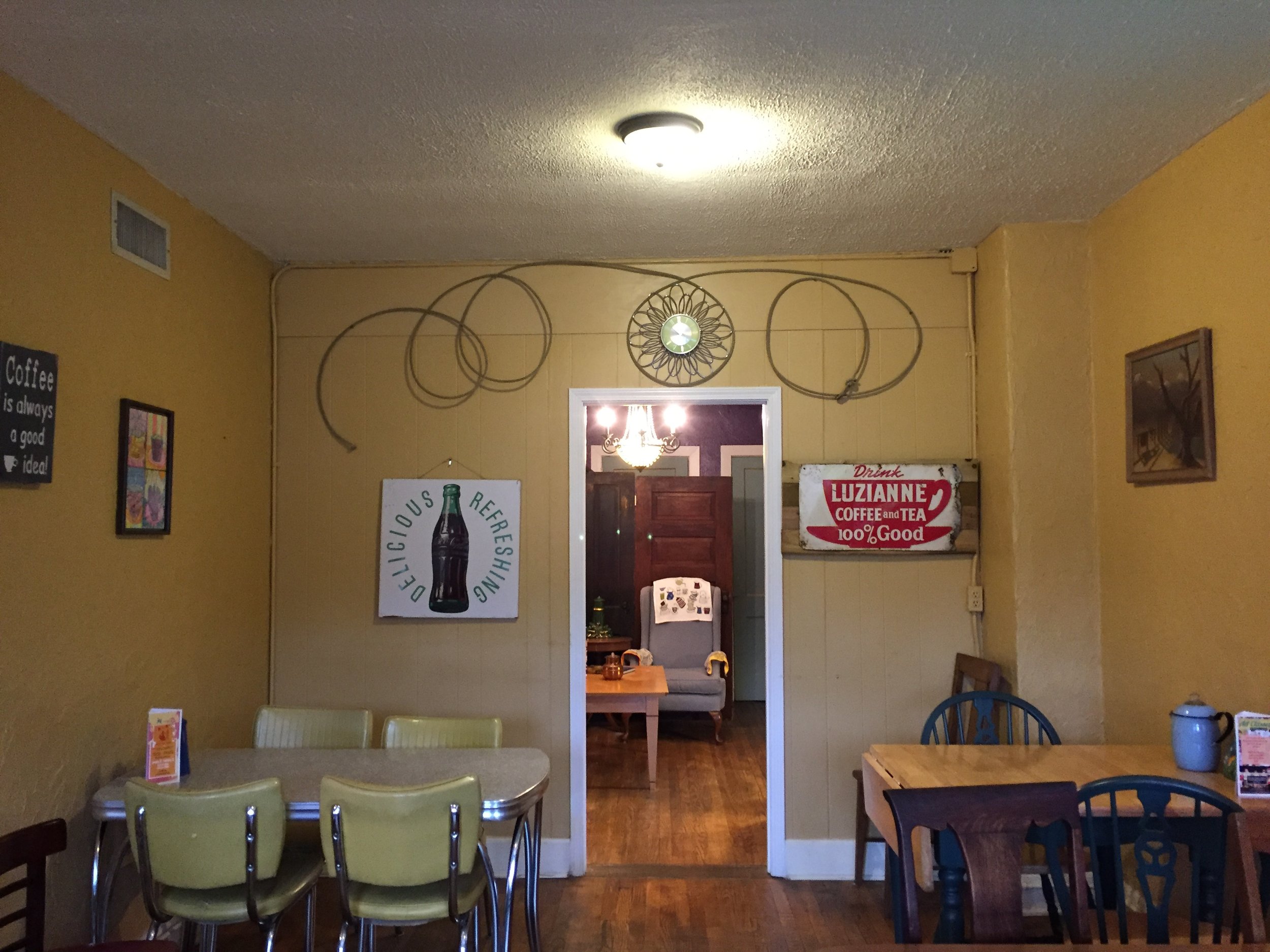 Deborah Kruse, owner
Growing up in Lander, Wyoming, Deb enjoyed spending her free time climbing trees, riding dirt bikes and later, orienteering. She spent twenty years in FedEx and the company's philosophy was "people, service, product: You take care of the people, you provide good service and product, and success will follow." With the traveling nature of her job, she found herself in many new cities, and the first place she always went was a local coffee shop. While she had many dreams of opening her own shop up one day, it wasn't until 2015 that this dream was to come to fruition. Since, she has enjoyed sharing and hearing people's stories and creating the experience that is Jonesborough's Living Room.
Deb, or as we like to call her "The Most Interesting Woman in the World," has a life story that could fill many a novel, so be sure to strike up a conversation with her the next time you stop by.
anna
This homegrown downtown Jonesborough gal keeps the coffee stocked and the nitro on lock. You can also find her at the local brewery pouring delicious micro brews. She is a certified cat lover and master of the power clash.
DONICA
Hailing from Clearwater, Florida. She and her husband have a small farm where they raise chickens, goats and bunnies. You can also find her running the Downtown Elizabethton Farmers Market. Come in and visit her and ask her to fix you her favorite: a French Press.
summer
Our favorite regular and part-time employee, Summer makes sure our syrup bottles stay counted and cleaned. You'll find her artwork sporadically through our humble abode.
Artists formerly known as Baristas
Makay
Music festival addict and thrift store maven, she's always there to greet you with a smiling face. And she makes a killer key lime pie.
kara
Founder and C.E.O. of Humilitea House, Kara has creativity running through her veins, hand making everything from stunning jewelry to beautiful mugs.
BEN
Ben is a Jonesborough native who enjoys diversity, the environment, music, and the arts. He is a University of Tennessee graduate who has lived in Canada, Colorado, and South Korea. He's also an avid hiker and cat lover. Come down and meet him!
148 E Main St, Jonesborough, TN 37659
Phone:
(423) 483-2602
Hours:
Mon.- Sat. 8am-6pm
Sunday 10am-5pm
Contact Us
Get email updates of upcoming events, special offerings, and new menu items. Or just drop us a line to offer suggestions, comments, or just say hello. Thanks!